North Fort Worth Alliance Mission and Purpose
North Fort Worth Alliance's mission is to protect and enhance the neighborhood concept, to encourage, communicate, educate, share information, and to exchange ideas to promote a better quality of life for those who reside within boundaries of the Alliance.
The purpose of the Alliance is to provide a forum and means to foster communication and cooperation among the neighborhood associations, civic groups, and any other organizations that seek to improve the community and foster responsible growth within the identified boundaries.
Never doubt that a small group of thoughtful, committed citizens can change the world; indeed, it's the only thing that ever has. ~Margaret Mead
Interested in getting involved with the North Fort Worth Alliance? How about joining one of the committees?
Presently (May 2022), we could use a Parks & Recreation Committee person. Task is to work under the direction of the NFWA Executive Board with member HOAs to further useful park and recreation facilities in north Fort Worth. Activities will include developing a coordinated parks plan for the area, work with the Parks and Community Services Department to obtain maintenance and capital funds to support park and recreation, and to work on other parks and recreation issues as they arise.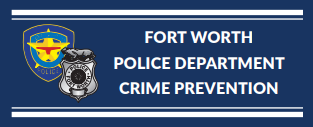 One of the ways we can fight crime is to register our outdoor cameras with the City of Fort Worth Police Department. Find out more information by clicking the link above.
You might also consider subscribing to CrimeMapping to keep current on the crimes going on in your area.